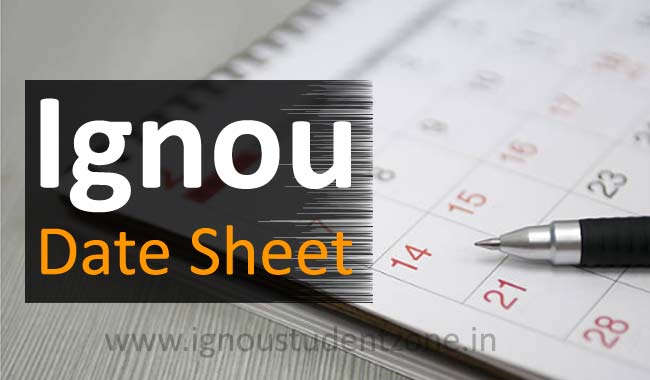 Ignou date Sheet June 2017– The Indira Gandhi Open University has been going to conduct the term end examination June 2017 from 1st June 2017. To help students in preparing for examinations early, the university has published the link on its official website to download the date sheet.
Also, the students can download and submit exam form online from 1st March 2017.
Although the exam time table provided by the university very early is the tentative one but it will give the students enough idea about the dates.
The university provides the date sheet of the programmes such as Master Degree (MBA, MCA, MA, M.Sc., M.Com, M.Ed, MSW, MTM), Bachelor Degree (BA, B.Sc, B.Com, BDP, B.Ed, BSW), Diploma & Advance Diploma, Certificate, etc.
Students can plan their exam preparation according to the schedule provided by the university. The final Ignou Date sheet June 2017 will be updated by the university at the same link one month before the examinations.
It may or may not be different from the tentative date sheet. So, we advise all the students to check the latest date sheet one month before the examinations.
The time table for upcoming term end examinations can be downloaded online from the university official website as it is already available there under the "Downloads" link. Here is the direct link we have provided for your convenience:
Important link:
How to download Ignou date sheet online?
Please visit the university official website.
Please follow the path : Home> Student Support > Student Zone> Downloads> Pre-Exam Information
Click on the date sheet link for the required programme. You can download it in the form of PDF file.
You can save it to your computer or mobile device. Also, you can take the print out of the date sheet and keep it with your to schedule exam preparation.
As per the date sheet, the examinations will be going to start from 1st June 2017 and ends in the last week of the same month. i.e on 30th June 2017.
These exams will be supposed to be conducted across 781 examination centers including 41 overseas centers and 56 centers in Jail for jail inmates. The hall ticket/ admit card for these upcoming exams will be issued 10 days before the exams.
Students are advised to check the exam schedule carefully as the exams will be conducted in 2 shifts timings i.e. morning Session starts from 10 a.m to 1:00 pm and the evening session starts at 2:00 pm to 5:00 pm.
All the IGNOU students can subscribe with us for all the latest exam date sheet notifications by submitting their email id in the subscription box.