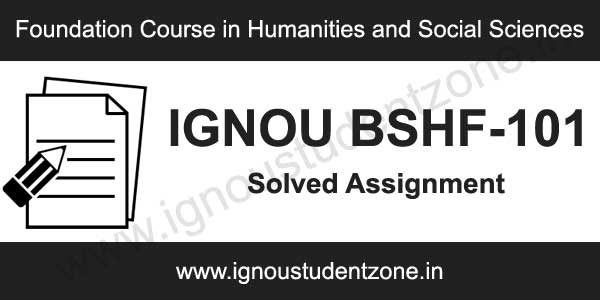 Ignou BSHF 101 Solved Assignment 2017-18
Students who are pursuing Bachelor Degree Programme from Indira Gandhi National Open University have to submit solved assignment for its Foundation Course in Humanities and Social Sciences. Ignou BSHF 101 solved assignment carries 100 marks.
The Ignou School of Social Sciences is responsible for preparing these assignments to assess the students.
Here are the details about the assignment
Course Code: BSHF-101
Assignment Code: BSHF-101/AST/TMA/2017-18
Total Marks: 100
It is also known as Tutor Marked Assignment (TMA).
Related Article: BSHF 101 Ignou book pdf
Validity of Assignment
The Ignou BSHF 101 assignment 2017-18 questions will remain valid for the students who take admission in July 2017 and January 2018.
Last Date of Submission of Ignou BSHF 101 solved assignment
31st March 2018 (For July 2017 session students)
30th September 2018 (For January 2018 session students)
Where should I submit the solved assignments?
After writing the answers of all the questions given in the assignment booklet, students have to compile it in the form of a file and submit it to the The Coordinator of Ignou Study Centre concerned.
Note: Don't forget the attach ignou assignment front page at the start.
Download Ignou BSHF 101 Assignment Question paper
Ignou BSHF 101 solved assignment
In this section, we will try our best to answer each question of assignment one by one. If you need solutions on urgent basis you can contact at email: zigmakart@gmail.com, whatsApp: +91-9419113930
We hope this article will help you in getting latest solved assignment of Foundation Course in Humanities and Social Sciences i.e BSHF-101.