IGNOU M.Com – Master of Commerce
The School of Management Studies in Indira Gandhi National Open University is one of the biggest business school in Open Learning System. It has developed a very innovative Master Degree programme in the field of Commerce. It is known as Master of Commerce (MCOM).
The university is offering this programme to the students all over the world with specialization in International Business Operations.
Related Post:
After studying this programme, the learners will be equipped with the necessary skills such as conceptual, entrepreneurial, analytical, etc required by them to handle any Business Operation especially the International Business.
It has been designed and developed by top faculty members who have lot of experience in the field of Commerce.
The Ignou M.Com courses included in the curriculum focuses on the applied aspects of Business Operations.In the later part of this guide, we will provide the course codes with their name as well.
Now, let's start with detailed information about this programme:
Medium of Instruction
The M.Com programme offered by Indira Gandhi National Open University is available in both English and Hindi medium. Students can choose any one medium while applying for admission.
Note: The students will receive the study material or books of M.Com in same medium of instruction which they have chosen at the time of admission.
IGNOU M.Com Eligibility Criteria
The interested candidate must possess the Bachelor's Degree or a higher degree from a recognized University. i.e. the learners who have completed their Graduation degree in any discipline or its equivalence from a recognized university can apply for admission to Ignou M.Com programme.
Duration of Programme
The Ignou Master of Commerce (M.Com) programme is of 2 years duration. It means learners can obtaining the master degree in commerce only after consuming the minimum duration of 2 years and passing out all the required courses. However, the maximum duration allowed to complete all the courses of this programme is 5 years.



IGNOU M.Com Fee Details
The applicants have to pay sum of Rs. 13,200/- for the complete programme. They do not need to pay the complete amount in one time. The fee has to be paid year wise @Rs. 6,600/- per year.
There is no other distance learning university apart from Ignou which is offering M.Com at such low fee rates.
Age Limit
There is no minimum and maximum age limit for admission. Only the applicant must possess the graduation degree from recognized University.
IGNOU M.Com Courses & Syllabus
There are total of 12 courses included in the curriculum which comprises of six core
courses and six specialization courses. In both years, students have to study and pass out 6 courses. The credit value associated with each course is 6. It means student have to complete total of 72 credits to become eligible for the award of the Master Degree in Commerce i.e. M.Com.
Sometimes, the students find it difficult to understand the credit system introduced by the university. But it is very easy and it helps a lot to the students as well. Here, 1 credit is equivalent to 30 study hours which means students give minimum of 30×6 = 180 hours to study an M.Com course.
If the student completes the first year courses i.e. 36 credits, then he/she will be awarded Postgraduate Diploma in International Business Operations (PGDIBO). The Master Degree in Commerce with specialization in International Business Operations will be awarded only after completion of all 72 credits.


Below, we have provided the detail of Ignou M.Com courses in the tabular form. It is as follows:
IGNOU M.Com First Year Courses

Course Code
Course Name
Credits
 IBO-1
 International Business Environment
 6
 IBO-2
 International Marketing Management
 6
 IBO-3
 India's Foreign Trade
 6
 IBO-4
Export Import Procedures and Documentation
 6
 IBO-5
International Marketing Logistics
 6
 IBO-6
International Business Finance
 6

IGNOU M.Com Second Year Courses

CourseCode
Course Name
Credits
 MCO-1
 Organisation Theory and Behaviour
 6
 MCO-03
Research Methodology and Statistical Analysis
 6
 MCO-04
Business Environment
 6
 MCO-05
 Accounting for Managerial Decisions
 6
MCO-06
Marketing Management
 6
 MCO-07
Financial Management
 6
IGNOU M.Com Admission Jan 2020
In Indira Gandhi National Open University, the learners can apply for admission in any of two sessions i.e. January and July.
So, same is the case for M.Com as well.
The learners can apply for admission in M.Com programme via online admission mode only. They have to fill up Ignou online admission form to register them for this Master Degree programme offered by the university in the field of Commerce.
The learners can check out last date of Ignou M.Com admission on the same portal where they have to apply online for the admission. i.e https://onlineadmission.ignou.ac.in/
IGNOU M.Com Online Admission
Before applying for admission online,the students must download the common prospectus first to read the complete information about this programme such as fee, eligibility criteria, duration, age limit, examination, re-registration, etc.
If they have any doubt, they must visit their nearest Ignou Regional Centre to discuss it with the counselors. Don't be in hurry to apply for admission without knowing the complete details about it.
After clearing all their doubts, they should apply for admission. In the first step, they have to fill up registration form on Ignou online admission portal. Enter all the require details such as Name, Date of Birth, Email Id, Phone no., Qualification, Programme Name, Username, password, etc.
Once registered, the applicant have to log in with the Email id and password they have entered while filling up registration form. Now, they should upload the required documents, Photograph and Signature.



General Instructions and Guidelines to fill up IGNOU M.Com admission form online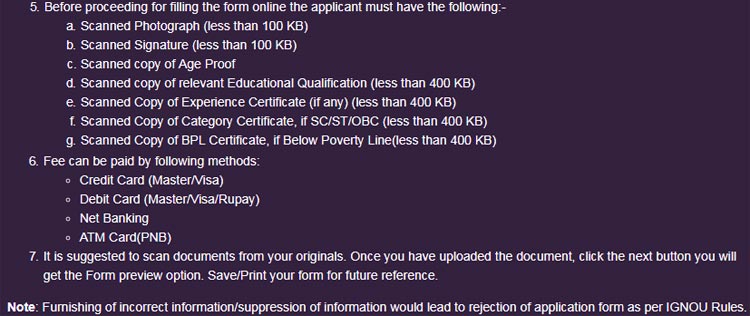 IGNOU M.Com Re-Registration for 2nd year
It is not necessary that university will communicate with students to provide information about admission/ re-registration in second year. So, it is advised to all the students who pursue M.Com from Ignou that they should do the second year course registration by filling up online application form.
Many students who appears in the first year examination waits for the declaration of result to apply for second year re-registration.But this is totally wrong.
After the 1st year, they become eligible for second year admission irrespective of fact whether they have pass/attempt first year examinations or not. So, they should apply for re-registration of second year before the start of first year examination.
Otherwise, they may lose their precious six month once the re-registration date is over.
We have provided below the link where students can read more about online re-registration and last date to apply for it. It is as follows:
Ignou M.Com Prospectus
The candidates who wish to apply for admission to M.Com programme offered by Indira Gandhi National Open university has to obtain the IGNOU M.Com prospectus from university.
The university do not provide the separate prospectus for its Master of Commerce programme whereas all the details regarding the programme are included in the Common prospectus issued by IGNOU every year. It is also known as "Student Handbook and Prospectus".
The university provides the IGNOU M.Com Prospectus (Common Prospectus) in both English and Hindi medium. It is provided in both languages for the student's convenience so that they can easily read it according to their known language. They can easily understand the M.Com programme details without any problem.
For the student's convenience, We have provided the link below to download the IGNOU Common Prospectus (English & Hindi) which contains all the required information about the M.Com programme.
The Common prospectus contains the complete detail about the Master of Commerce (M.Com) programme and it also includes various forms which would be required during the completion of studies such as Term End Examination, Re-Registration, Revaluation, Change of Study Centre, Course, etc.
How to Obtain IGNOU M.Com Prospectus?
The candidates can obtain the IGNOU M.Com prospectus by any of three methods mentioned below without facing any difficulty:
The Student Handbook & Prospectus for IGNOU M.Com programme can be obtained from the nearest IGNOU Regional Centre or Director, Student Service Centre(SSC), IGNOU, Maidan Garhi, New Delhi by submitting the fee of Rs.200/- in cash at regional centre sales counters.
The learners who do not have Regional Centre in their nearby area can request the prospectus via post by sending prospectus fee plus Rs.50/- i.e. Rs.250/- in the form of Demand Draft in the favour IGNOU payable at New Delhi to the following address: "Registar, Student Registration Division, IGNOU, Maidan Garhi, New Delhi, 110068″.
The third and easy method to get the prospectus to download it from official website of university.i.e www.ignou.ac.in. But in this case, the candidate will get only soft copy of prospectus in the form of PDF file. For obtaining printed copy of prospectus, the learners has to follow above two methods only.
IGNOU M.Com Solved Assignments
The students who are looking for solved Ignou m.com assignments can get it from below mentioned link:
We hope this article help you in applying for Ignou M.Com admission online without any problem. If the learners have any query regarding admission, they can comment on this page. We will try our best to solve their query.