Ignou revaluation fee – Students who apply for re-evaluation of their paper answer script have to pay the sum of Rs.750/- (Seven Hundred fifty rupees only) per course as a fee.
The applicants have to submit the application form to the concerned Evaluation Centre in the prescribed format along with the prescribed fee.
If you have already applied for revaluation, then you may like to check out your result.
The fee has to be paid in the form of Demand Draft (DD) in favour of Ignou payable at the city where submitting the application form.
The applicants have to mention the demand draft no., date, Issuing bank, etc while filling up the form. It will look like the format mentioned below:

Fee Structure:
For Indian students, the application fee is Rs. 750/-per course.
SAARC Countries Students have to pay Rs. 1200/- per course.
Non-SAARC Country students have to pay $75 per course
Note: It is advised to carefully read out all the Rules & regulations mentioned on the reverse side of application form before filling it.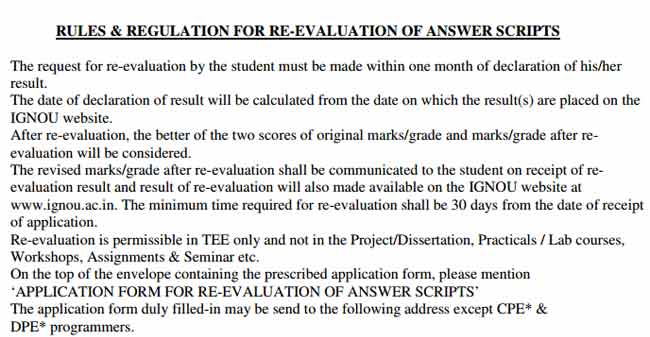 Subscribe to us for latest updates & notifications.