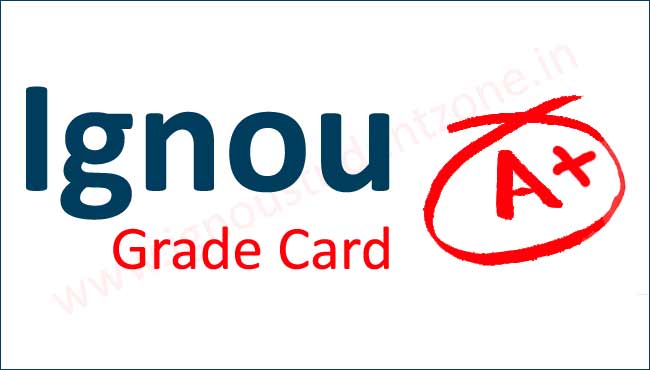 IGNOU Grade Card 2018
The Indira Gandhi National Open University compiles the student's examination result in the form of marks card. It is known as IGNOU Grade Card. It provides an option for students to check their marks or grade of theory, practical, project, assignments at one place for all their courses.
Immediately after the declaration of term end examination result for June or December months, the university updates all the student's grade card who appear in the examinations of any of the following programmes: BDP, BA, B.Sc., MA, M.Sc., B.Ed, M.Ed, MBA, BBA, B.Com, BSW, M.Com., BCA, MCA, etc.
Related Post: Did you check your Ignou assignment status?
The university provides the links on its official website for all the students to check their IGNOU grade card status online.
IGNOU Grade Card Result June 2018
Also, after every term end examination, the university send the hard copy of the grade card to the respective students at their residential address via post or Courier. In Case, if anyone does not receive it at home, he or she can check it online by entering their nine digit Enrollment Number.
We have also provided below the direct links to check the IGNOU Grade card 2018 for all programmes and for all students. The grade card is like a mark sheet which consists of marks or grade for Term End Theory exams, Tutor Marked Assignments, Term End Practicals and Project.
The practical and assignment sections in the grade card are available for those programmes which have practical courses and project work respectively.The IGNOU Grade Card result will show you the final marks of Theory, Practical, and Assignments, projects. So, just click on the links mentioned below to check the June 2018 IGNOU Grade Card for various programmes.
How to Check Ignou Grade Card on the official website?
Step 1: Please visit the IGNOU website at following address: http://www.ignou.ac.in
Step 2: Click on the "Student Zone" link available at the top part of a home page. It will redirect to a new webpage where "Grade Card" link is available. Here is the path you have to follow: Home -> Student Support -> Student Zone ->Results -> Grade Card.
Step 3: On the Grade Card page, the university has provided the two separate links to check grades for programmes such as BCA/MCA/MP/MPB and for others. Here, You can check the result of all the courses except for BIT/ADIT by selecting the programme and entering nine digit enrollment number provided by the university.
Step 5: For future reference, you can take print out of the grade card result.
Step 6: There you have to select the programme code from the available drop-down list and then enter your nine(9) digit enrollment number. After this, you have to click on the submit button and your grade card will appear before you on the screen.