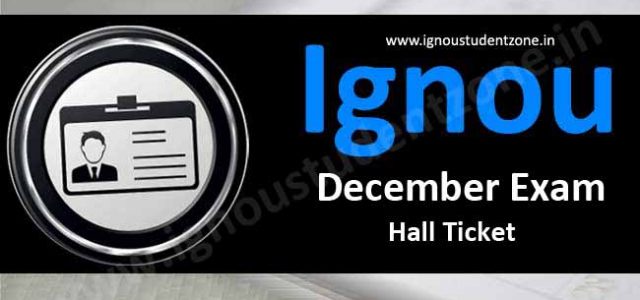 Ignou Hall Ticket Dec 2017 will be issued to the students 5 days before the commencement of the examination in the month of December. As, we know Ignou June examination process has been completed successfully and the result has been declared as well.
Now, It's the time for December 2017 examination and the Ignou exam form online submission process will start from 1st September 2017.
The university will issue the hall ticket for all those students who will apply for upcoming examination by filling up exam form.
Note: The student will be issued the hall ticket or admit card only if he/she will be found eligible to appear in the upcoming examination.To know the eligibility, please read out guidelines and instructions before filling up online exam form.
The Indira Gandhi National Open University will conduct the examination for following programmes and their related courses: Bachelor Degree, Master Degree, Diploma and Certificate.
How to download Ignou Hall Ticket Dec 2017?
The university will provide the link on its official website to download Ignou admit card ten days before the commencement of examinations.
Just click on the link mentioned below to download the admit card/ hall ticket.
Admit Card / Hall Ticket (Coming Soon)
DPE hall ticket (RC Ranchi) (Coming Soon)
DPE Hall-ticket (RC Darbhanga) (Coming Soon)
Why Ignou Admit Card Dec 2017 is so important?
The hall ticket contains the information such as course codes, venue of examination, date and timing to appear in the exam.
It is very much important to bring the hard copy of admit card along with you in the examination hall. Otherwise, the university may not allow the students to enter the examination hall.
Ignou practical hall ticket Dec 2017:
The Ignou Hall Ticket Dec 2017 for BCA & MCA for Term End practicals exams will be issued separately to the eligible students.
All these students will be instructed to contact their respective Regional Centres in the last week of June for their practical examinations.
Students who are pursuing BLISc. (Library Science) programme need to contact the Centre Superintendent and check the Notice Board for Practical Examination Centres.
For more information visit: http://www.ignou.ac.in