IGNOU Identity Card Download 2019-2020
The Indira Gandhi National Open University has changed the method of providing ID card to its students. As per new changes, students will be able to download new IGNOU Identity card from the university online admission portal.
All the new students who have taken admission in July 2019 session have to logged in to admission portal to download their id cards. However, they will be able to download identity cards only if their admission is confirmed.
IGNOU Identity Card Download 2018-19
The students who have been admitted in 2018-19 or earlier sessions (Old students) have different link to download ID card in case if they require it again.
For Old Students IGNOU ID card Download
The university has provided the direct link on its official website to download IGNOU ID card for all the old students who have taken admission in Jan 2019 or before…
For student's convenience, we have also provided below the direct link to download old I Card of IGNOU University:
What is IGNOU Identity Card ?
Ignou Identity card – This card ensures the identity of a learner as a student of Indira Gandhi National Open University. Students have to produce the card on demand at any establishment of IGNOU such as Regional Centre, Study Centre, Exam Centres, etc to use its facilities.
Looking for Ignou June result update? Keep visiting ignoustudentzone.in for latest updates.
Importance of Ignou Identity card?
1) Students will not be allowed to appear in the examination whether it is theory or practical if they do not carry their ID card along with them.
2) The various facilities provided by Indira Gandhi National Open University can be availed only if the students possess this card. However, it would be available only relating to the course or courses for which the student is actually registered.
Related Post: Apply for Ignou BA admission online,  How to get Ignou duplicate id card?
How can students get their Identity card?
This is the question many students are asking all over the internet on various forums and websites. So, here I am going to tell you how the students can obtain it from different sources.It basically depends upon the method of admission the learner chooses. As we all know that there are two methods of admission i.e. Online and offline.
Applied for admission online, how to get IGNOU ID Card?
If the number of students has taken admission by applying online at the university website.Then, they can easily download it online from the same website.
All they have to do is to login into their account with the correct username and password. After logging into the account, they find a link to download their ID card.
Applied for admission at IGNOU regional centre, how to get ID card?
Above, we have explained the method of obtaining the card if the student applies for admission via online admission portal.
Now we will tell you how to obtain Ignou student identity card in case of offline admission.
Once the admission is confirmed, the university sends the ID card to the students via post. But if somehow, any of the student does receive it at their communication address, they can contact their respective regional centre concerned.
Students can also cut the copy of ID card from their Student Handbook & Prospectus. They have to paste their recent size passport photograph on it. Also, fill all the required details in it and get it attested from the regional centre concerned.
Below we have provided the sample images of the card which will tell you how it looks like. We have taken these images from common prospectus provided by Ignou.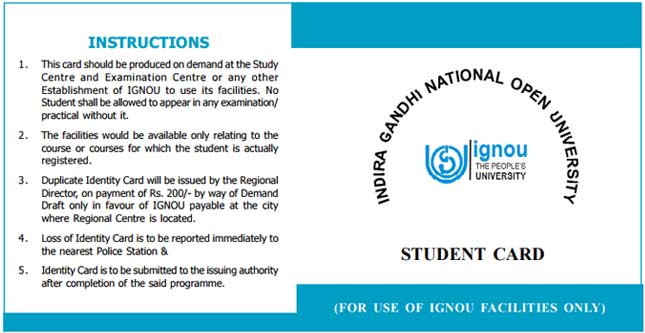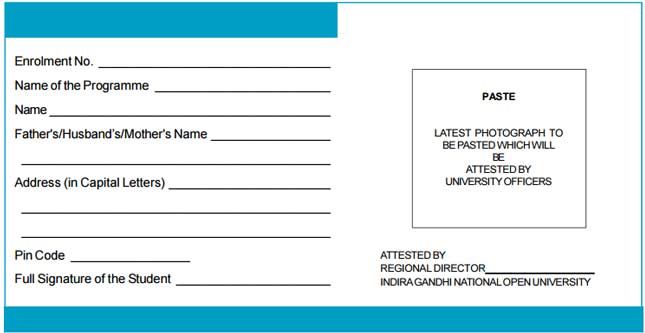 For the student convenience, we have provided the link below to download the soft copy of it in the form of pdf file.
All you have to do is to download file on your computer or mobile device and take its colored printout. Then you have to fill all the required detail and paste photograph and get it tested from regional centre concerned.
Important Link:
We hope you must have like our article. We will appreciate if you share it on your social profiles.
Thanks and best of luck for your studies!