IGNOU MAH Question Papers
Are you pursuing Master of Arts in History(MAH) programme from Indira Gandhi National Open University? If you are reading this article then I guess your answer will be "Yes". Here, the students can download Ignou MAH question papers of previous year such as Dec 2018, June 2018, June 2017, Dec 2016, June 2016, Dec 2015, June 2015, 2014, etc.
Related Post: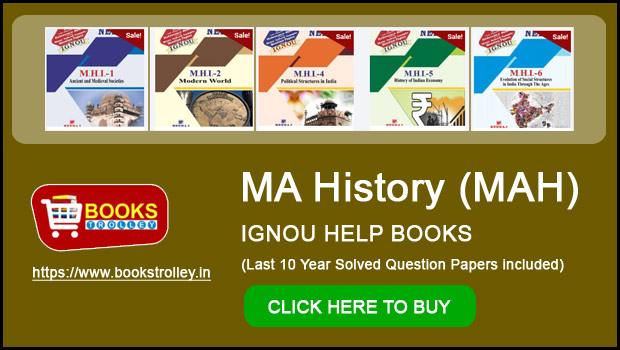 It should be noted that these question papers are also available on the Ignou official website at www.ignou.ac.in. Students do not need to pay any charges for it as these papers are available totally free of cost. Anyone can download Ignou MA History question papers to prepare for the upcoming December and June examinations.
Related Post: Ignou question paper
IGNOU MAH Previous Year Question Papers
So, the question arises why we have uploaded the Ignou MAH question papers on our website if these are available on the university official website.
The answer is that the university provides the link to download question papers year wise. Students have to open up each year link and search for their programme and courses.Then they can download it.


Here, we have made it simple for them by providing direct links to download Ignou MAH previous year question papers. They do not have to search for their course.
All the papers of Ignou MAH programme are provided here year wise. So, just click on the year to download question paper of first and second year courses.
How to download IGNOU MA History Question Papers?
The previous year question papers of Ignou MA history first Years and Secons year courses are available in the PDF format which can be downloaded on a single click.
It should be noted that we have created an individual link for each year and differentiated them course wise. Now, let's download these papers. Below, We have provided the question papers below:
Subscribe to us for more latest updates…