NIOS DELED Exam Form Online 2018 
NIOS DELED exam form submission process has been started for first semester examination. As per latest update, The first NIOS examination for Diploma in Elementary Education (D.EL.Ed) for courses 501, 502 and 503 will be conducted in April-May 2018.
We have written this article to inform all the teachers who pursuing DELED from NIOS that their first semester exams are going to be started soon.They have to fill up NIOS DELED online exam form to appear in these upcoming examinations. At present teachers can fill up exam form by online method only. The exam application form will not be accepted by any other means.
The NIOS has finally revealed the dates to fill up and submit DELED examination form online for the first semester examination 2018. Now, the candidates are searching all over the internet how to fill up NIOS DELED exam form online for the first semester exams.
Earlier, we have provided you complete detail about how to write NIOS DELED assignments for courses 501, 502, and 503. Most of the candidates have completed their assignments and submit it at their study centres.
NIOS DELED Exam Form Start Date
Now, it's the time for first semester examination of D.EL.Ed course offered by NIOS. As per the latest update on official website of National Institute of Open Schooling, the candidates will be able to fill up examination form from 15th February 2018 on the official website at http://dled.nios.ac.in.
Last Date of NIOS DELED Exam form Submission
The last date to fill up examination form of DELED Courses 501,502 and 503 is 6th March 2018 without any late fee. The candidates who will fill up exam form after last date will be charged Rs. 250/- extra for each course.
NIOS DELED Exam Fees
The schedule for online registration and payment of examination fee for DELED examination is mentioned below in the tabular form:
Course Code
Course Name
Exam Fees (15-02-2018 to 6-03-2018)
Exam Fees (7-03-2018 to 15-03-2018)
501
Elementary Education in India: A Socio-Cultural Prespective
Rs.250/- per subject
Rs.350/- per subject
502
Pedagogic Processes in Elementary Schools
503
Learning Languages at Elementary Level
How to fill up NIOS DELED online exam form?
Step 1: Please open up NIOS DELED official website i.e. deled.nios.ac.in
Step 2: Click on "Teacher's Section" to open up a new Webpage. It will look like as shown in the image below: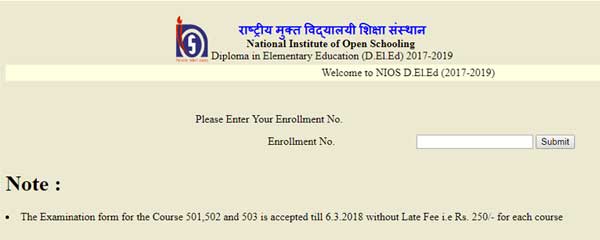 Step 3: Here, you need to enter your enrollment number and click on submit button.
Step 4: After this you have to fill up application form and submit fee online.
Step 4: After submitting NIOS DELED exam form online. Take a print out of it for future reference.