NIOS (National Institute of Open Schooling)
The National Institute of Open Schooling (NIOS) is an autonomous organization under the Government of India, Ministry of Human Resource Development (MHRD). It is the largest open schooling system in the world with around 2.02 million learners currently on roll at the secondary and senior secondary level. It is offering NIOS DELED programme to untrained teachers.
NIOS has national and international network with more than 15 Regional Centres, 2 Sub-Centres and about 5,000 study centres for its Academic and Vocational Programme within and outside the country.It provides access to learner centric quality education, skill up-gradation and training through open and distance learning mode.
The delivery of its programmes is through printed material coupled with face to face tutoring (Personal Contact Programmes), supplemented by use of Information and Communication Technology- Audio/Video Cassettes, Radio Broadcast and Telecast etc.
NIOS D.El.Ed. Programme
NIOS has been vested with the authority to train the untrained teachers at Elementary Level.The training package for D.El.Ed. Programme has been developed by the NIOS in collaboration with other agencies working in field.
The Institute offers a very innovative and challenging Two-year Diploma in Elementary Education Programme for in-service untrained teachers in different states keeping in view the NCF 2005, RTE 2009 and NCFTE 2010.
Mode of Programme
This NIOS is offering D.El.Ed. Programme through Open and Distance Learning (ODL) mode and provides you ample opportunity to be professionally trained without being disturbed from your regular working as a teacher.
Eligibility Criteria
To be eligible for admission in NIOS DELED programme, the Senior Secondary Qualification (or its equivalent) with at least 50% marks in aggregate and B.A./B. Sc. is must for Untrained teachers who are working at Elementary level (Classes I- VIII).
Medium of Instruction
The medium of Instruction is both English and Hindi. It depends on learner which instruction medium he/she chooses while doing registration for the course.



Duration of Programme
The minimum duration to complete this progamme is two years. However, the learner is allowed to complete all the courses within maximum duration of three years. After three years the registration of a learner will not remain valid.
NIOS D.EL.ED Programme Structure
The basic principles on which the programme is structured is based on the functions a teacher is expected to perform at the elementary schools, be it engaging in the classroom processes, mobilizing the community, participation in the corporate life of the school, or implementing the whole school development plan. Accordingly, the programme structure is evolved as presented below: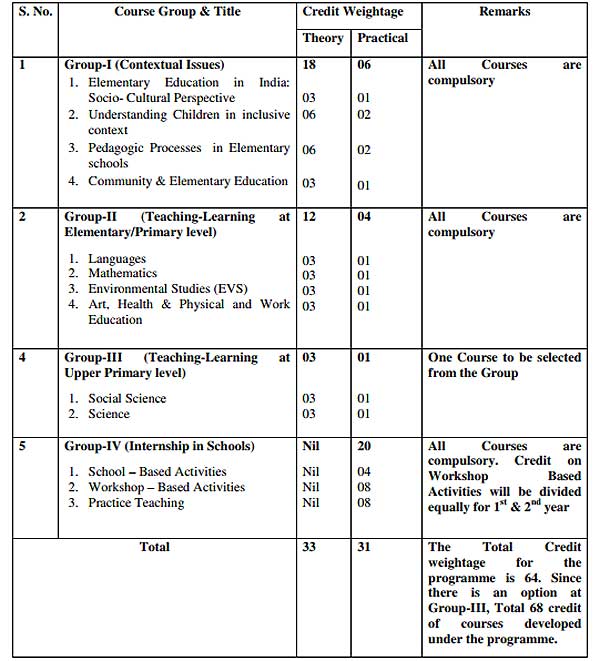 Learners have to complete total of 10 papers (five papers in two semesters of 9 months). Below, we have provided the details of NIOS D.EL.ED courses of first and second year:
Course Structure 2 semester (9 Months) (Total 32 Credits)

Course Code

Title of the Course

Credit T+P
501
Elementary Education in India: Social Cultural Perspective
3+1=4
502
Pedagogic Process in Elementary schools
6+2=8
503
Learning Languages at Elementary Level
3+1=4
504
Learning Mathematics at Elementary Level
3+1=4
505
Learning EVS at Primary Level
3+1=4

Practical Courses

511
School – Based Activities
4
512
Workshop – Based Activities
4

Course Structure 2 semester (9 Months) (Total 32 Credits)

Course Code

Title of the Course

Credit T+P
506
Understanding Children in inclusive context
6+2=8
507
Community & Elementary Education
3+1=4
508
Learning Art, Physical and Work Education at Elementary level
3+1=4
509
Learning Social Science at Upper Primary Level
3+1=4
510
Learning Science at Upper Primary Level
3+1=4

Practical Courses

513
School – Based Activities
4
514
Workshop – Based Activities
4
How to check NIOS DELED Admission Status Online?

Is your D.El.Ed. admission is confirmed by NIOS? These is very important question for all those candidates who have applied for NIOS DELED online admission to register them for the programme.
Many In-service untrained teachers has applied for admission to D.El.Ed. programme offered by National Institute of Open Schooling (NIOS). After applying for admission, they should check their NIOS DELED admission status to know whether their registration is confirmed or not.
It may be possible that due to some reason your admission gets rejected.So, We advice all the applicants to check their admission status at least once to remain away from any tension.


Below, we have provided the link to check NIOS DELED admission status.To check NIOS online admission status,the applicants need enter their 10 digit Reference Number and click on the "Submit" button.
How to download NIOS DELED Identity Card online?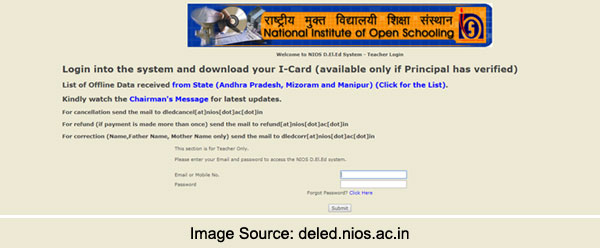 If the school principal has verified the admission and also the status of admission is showing confirmed in the system, then only the candidate will be able to download their Identity card. Below, We have provided the complete process of downloading NIOS D.El.Ed Id Card in simple steps:
Step 1: Please visit the official website at http://nios.ac.in/
Step 2: In the middle of page find the link with the text "NIOS-D.El.Ed for untrained teachers". Click on it an it will open up new web page (http://dled.nios.ac.in/) where complete information about D.El.Ed programme is available.
Step 3: In the left middle of this new webpage, you will find the link containing text "For Teacher (शिक्षक) Registration (पंजीकरण)". Click on it to open up new web page.
Step 4: At this webpage,The candidates have to enter the Mobile No. or Email and their password. Click on the Submit button to login.
Step 5: As soon as the candidate logged into the system, he/she can download their NIOS DELED Id card.
How to cancel NIOS D.EL.Ed Registration, Make Correction & get refund?
There may be some applicants who wishes to cancel his or her registration because of any some reason. It's very easy to do that.
Cancelling Admission
To cancel the admission,the applicant has to send email at dledcancel @nios.ac.in.
Getting Refund
In some cases, while paying fees online for admission, the payment is deducted more than once. The applicants do not need to worry about it as they can easily get their money back.They just need to send email at refund @nios.ac.in
Name Correction
Many candidates are asking questions all over the internet that what to do if they have entered wrong Name/ Father Name/ Mother Name. The answer is simple. They have to send email at dledcorr @nios.ac.in mentioning the correct name.
Personal Contact Programme (Tutoring)
The objective behind creating Personal Contact programme in this Open and Distance Learning System is to provide support to distant learners in solving their problems which they might face during their self-study.
After admission, the learners will be allotted their Contact Centres. Each candidate will be allotted a contact centre where he/she will get Personal Contact for the course.
In the Contact Centre there will be a teacher who will give lectures and also answer the queries/ questions of the learners. It should be noted that NIOS is not charging any fee for this. All this study support will be provided total free of cost.
Note: The District or State Coordinator will inform the learner about the Contact Centre that will be allotted to him/her.
How to get NIOS DELED Study Material?
As per NIOS Chairman message, no printed study material will be sent to learners at their home address. So, the learners should not wait to receive NIOS DELED study material at home.They should not postpone their studies in the hope to receive study material.
Then how to get NIOS D.El.Ed. books? The answer is mentioned below:
Learners can download the DELED study material from NIOS official website, NIOS App and Swayam platform (https://swayam.gov.in/)
What are various Digital Platforms and Channels for NIOS D.El.Ed distance learning?
Learners who are pursuing this programme from can do their studies at various digital platforms and channels.The list of these platforms has been mentioned below:
SWAYAM MOOC Platform
SWAYAMPRABHA DTH VAGDA Channel no. 32
D.El.Ed App
Mukta Vidya Vani
NIOS dled Web Portal
How to  to Register & Enroll on Swayam platform?
The term "SWAYAM" is new for many learners. So, before telling the procedure to register and enroll on SWAYAM, I am going to give a brief introduction about it. It is a web portal which has been developed by Ministry of Human Resource Development (MHRD) to host Massive Open On‐line courses (MOOCs).
The full form of SWAYAM is "Study Webs of Active‐Learning for Young Aspiring Minds". The objective of this platform is to  to achieve three cardinal principles of Education Policy viz., access, equity, and quality.
Note: National Institute of Open Schooling (NIOS) is one of the National Coordinator of SWAYAM.
SWAYAM Registration for Teachers
Now, I will explain how learners can easily register themselves at SWAYAM platform without any difficulty.They can do it in few easy steps.These are mentioned below:
Step 1: Please visit the URL: https://swayam.gov.in/User/Registration/. The registration web page will open up.Here learners has option to register as a student. They can choose either their social login (Facebook, Google, Microsoft) to register for SWAYAM account or they can click on "sign up now" to register without social accounts. Check out the screenshot below: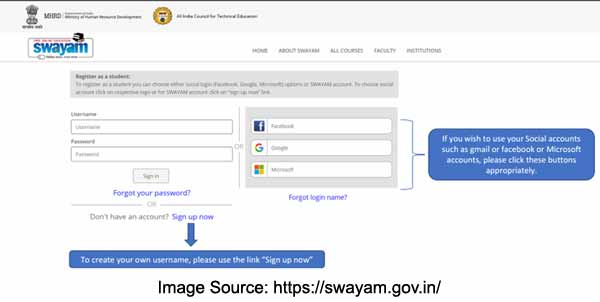 Step 2: Now, students need to enter their details as per the Registration form which will look like the image shown below: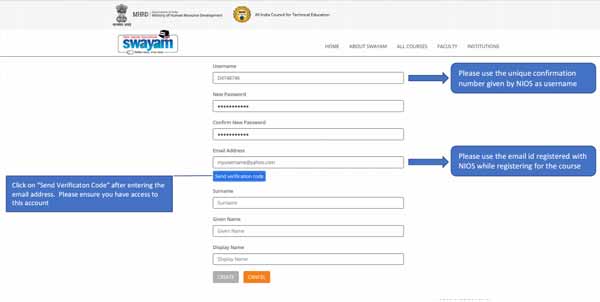 Step 3: After completing and submitting the registration form, the learner will receive email. They need to verify their email address and complete registration process.
Step 4: Now, you can login to SWAYAM portal. After getting logged in to the portal, the learners should update their basic profile as shown in the image below: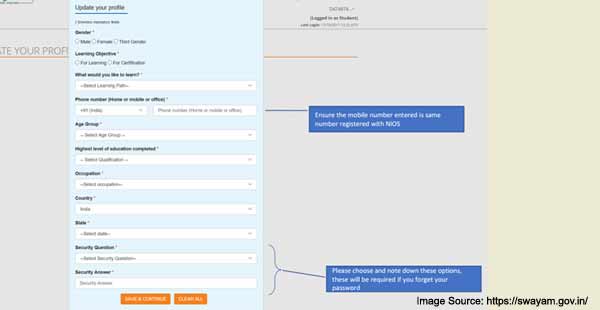 NIOS D.El.Ed Course Enrollment on SWAYAM
Like registration, the enrollment of course is also very simple and easy.Learners just need to follow few easy steps which we have mentioned below with screenshots of the process. These are mentioned below:
Step 1:
 To make it easy for the learners, we have provided the link here to visit the webpage directly where they can enroll for D.El.Ed. 501: Elementary Education in India: A Socio- Cultural Perspective: 
https://swayam.gov.in/course/4276-d-el-ed-501-elementary-education-in-india-a-socio-cultural-perspec
Step2: After clicking up the above mentioned link and opening up the webpage for course enrollment, Please click on "Enroll Now" button which is available in the left side of the page as shown in image below: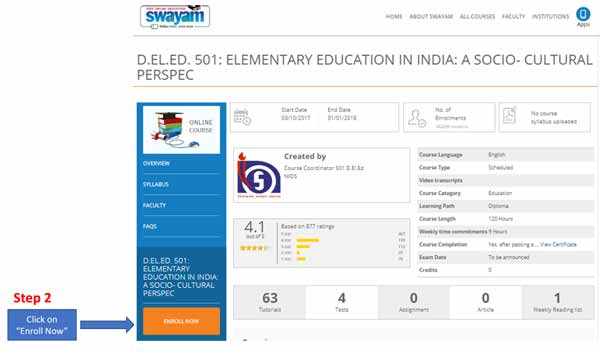 Step 3: As soon as the learner click on the Enroll Now button, a pop-up will open up asking for login details.Check the screenshot below: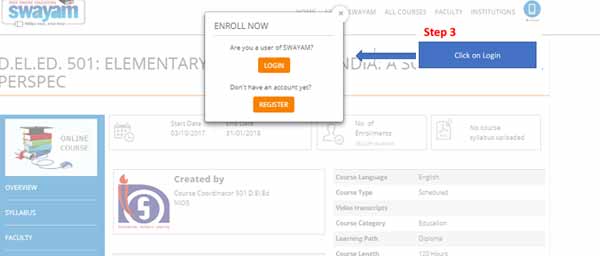 Step 4: In the next step learners have to enter their login details (Username/ Password) to logged into the system.
Step 5: After getting logged into the SWAYAM application, click on Enroll Now button again.
The steps mentioned above will remain same for the other courses as well. We have provided below links to enroll for Course 502 and 503.
Enroll 502: https://swayam.gov.in/course/4266-d-el-ed-502-pedagogic-processes-in-elementary-schools
Enroll 503: https://swayam.gov.in/course/4264-d-el-ed-503-learning-languages-at-elementary-level
All the course enrollment links will be updated by the NIOS at the following Url. So, keep visiting this webpage to remain updated. Here is the link:
I hope all the visitors will like this guide as it provides good enough information to the learners about NIOS DELED programme.
Keep visiting our website for more latest updates from NIOS,