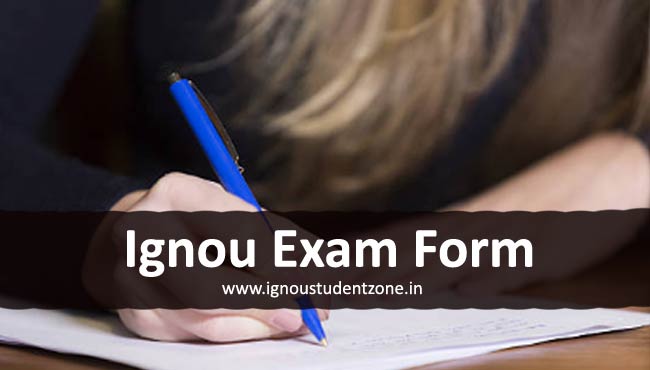 Ignou exam form December 2017 – The Indira Gandhi National Open University publishes the link on its official website to download exam application form. The eligible students can also obtain the examination form from their respective regional centre or prospectus.
Students have to pay the fee of Rs.120/- per course for which they are going to appear for the upcoming examination. The total fee has to be paid in the form of Demand Draft. The DD should be made in favour of Ignou, payable at the city of regional centre under which examination centre falls.
Related post: Know about Ignou term end examination
The instructions and complete detail about filling up an application form, last date of form submission and exam fees are mentioned on the backside of the form itself.
The university conducts the term end examinations in the month of June and December for all its programmes such as Master Degree, Bachelor Degree, Diploma, Advanced Diploma, Certificate and Advanced Certificate, etc.
The various programmes under these categories for which the students fill up examination form are as follows: BDP, BA, MBA, BBA, B.Ed, M.Ed., Post Basic B.Sc. Nursing (BSCN(PB)), MCA, BCA, MA, B.Com, B.Sc., M.Sc., M.Com, MSW, BSW, MTM, BTS, etc.
Important Links:
The university is going to conduct the term end theory and practical examinations in the month of December-January. The online or offline submission of Ignou exam form Deceber 2017 will start from 1st September 2017.
The complete details about the last date of application form submission have been mentioned below:
| | | | | |
| --- | --- | --- | --- | --- |
| FOR JUNE TEE | LATE FEE | | FOR DEC TEE | LATE FEE |
| 1 March to 31 March | NIL | | 1 Sept to 30 Sept | NIL |
| 1 April to 30 April | Rs. 500/- | | 1 Oct to 31st Oct | Rs. 500/- |
| 1 May to 15 May | Rs. 1000/-* | | 1 Nov to 15 Nov | Rs. 1000/-* |
* The examinations will be conducted at the Regional Centre city only for the students who will fill up the examination form from 1st May to 15th May for June examinations and 1 Nov to 15 Nov for December examinations.
Students can submit the completely filled-in form at the concern regional center in their city or they can directly fill the form online. Also, it is very much important to submit all the related solved Tutor Marked Assignments (TMA) before submitting the term end examination form.
Otherwise, your examination hall ticket will not be issued and you will not be allowed to sit in the examination hall.