How to pay Ignou Exam fees Online? Hello guys, Today I am going to tell you how the students of Indira Gandhi National Open University can pay their examination fee online.
Basically, there are two methods by which they can pay the prescribed fees to apply for examination. However, the students have to choose any one depending on the method how they submit their exam form.
The students of Indira Gandhi National Open University can submit their examination form either online or offline.
The offline submission of application form can be done at the regional centre concerned.
However, if they choose to submit their Ignou examination form online, then they can do it by visiting the university official website online.
Here, In this article, I will cover the complete procedure to pay exam application fee online or offline. So, let's start with both the methods one by one.
Step by Step guide to pay Ignou exam fees online :
In the first step, students have to open up Ignou official website to fill up application form online to appear in the upcoming examination.
Here is the URL: http://exam.ignou.ac.in



As soon as they open up the above mentioned link, they will see all the guidelines and Instructions published by the university which should be strictly followed to submit online examination form successfully.
Here is image showing how it looks like
At the end of this page, students will find the "Declaration" which they have to accept before proceeding to fill up application form.
Now, click on "Process To Fill Online Examination Form" to move to another page where the students will start filling up the application form by entering the basic details such as Programme Code, Enrolment no. and Mode of Payment.




It should be noted that at present the university shows only one mode of payment i.e "Debit/ Credit Card" in this form but later when you reach at payment form, the students will also get the option to make payment through "NetBanking" as well. Student can choose any one of it to make payment of Ignou exam fees online.
As shown in graphics above, the university has again provided few instructions to make sure that the student is ensuring all of them before filling up examination form.
After filling up all the details, click on submit button to proceed on next page where you have to fill up complete details regarding the examination such as Exam Centre Code, Date of Birth, Gender, Course codes, assignment submission status, etc.




Below, we have provided the screenshot of the application form as how it look like.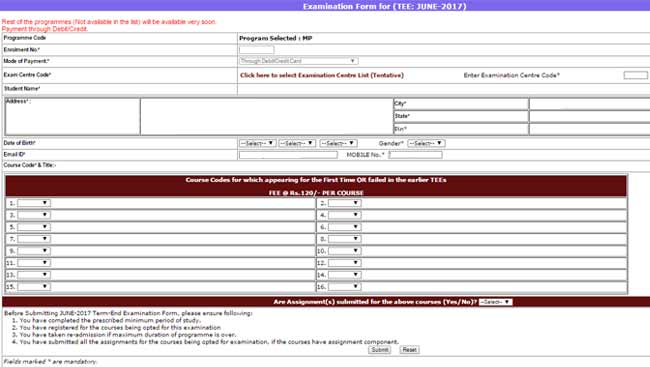 Students have to carefully fill up all the details on this page before clicking on "Submit" button.
After submitting this form, the new webpage will open up where students will find the "Pay Now" button to proceed to fee payment form.  At this page, all the information will be published which you have filled up in the last step. If you find anything wrong, you can click on "Back to Examination Form" button to correct it before paying fee.
Here is screenshot as how it look like

As students can see, we have red marked my information for security reasons. But if they fill up form, they will be able to see complete details.
As they proceed further by clicking on "Pay Now" button, they fill see the new webpage which contains the information related to fee transaction such as reference number. Students should note down the Transaction Reference No for future reference.
Here is how it look like:

Now, click on "Make Payment" button to move forward to pay fee through payment gateway which looks like as shown below: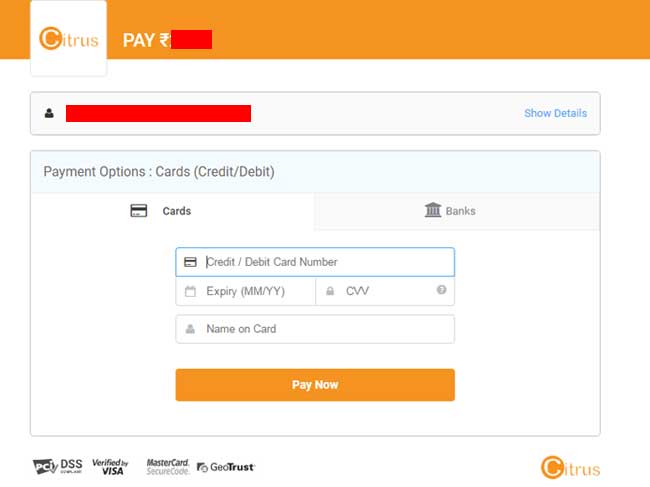 Here, the students can enter their Credit/ Debit card information or they can choose to pay through Banks "NetBanking" option.
Important Note: The students should not refresh the page while making payment. Otherwise, their payment will be failed. It may be possible that the fee amount get deduct but the submission of examination form does not complete.
I hope you must have got complete information regarding payment of Ignou exam fees online.
Thanks for reading this article. If you really like this article, you can share it with your friends on Facebook, Whatsapp, Linkedin, twitter, etc.